"For the first time in a long time, everything that we needed on this record is right in its place," mulls visionary Megadeth leader and musical architect Dave Mustaine of his band's incendiary 16th studio album, The Sick, The Dying... And The Dead! "I can't wait for the public to get hold of this!"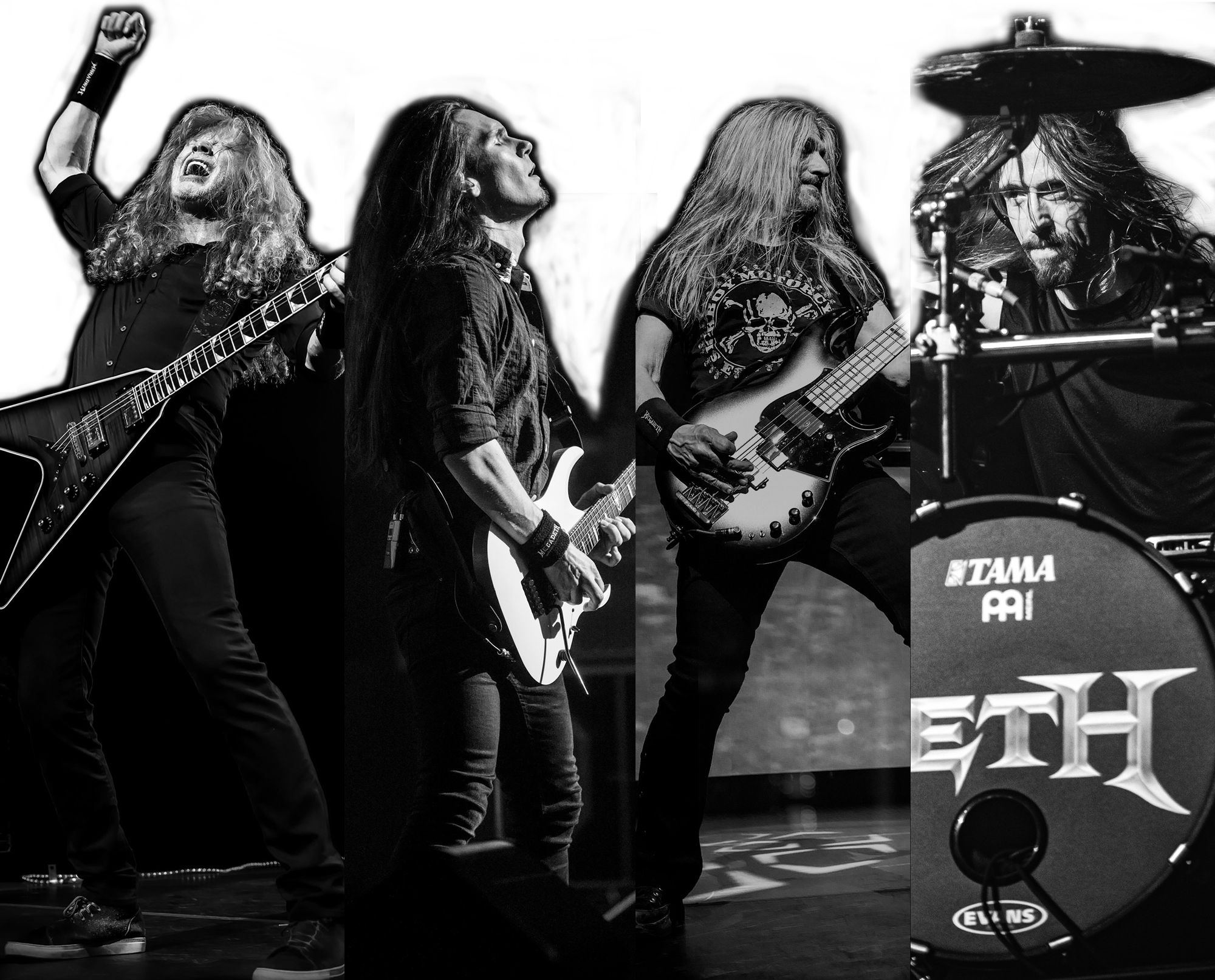 Released by UMe on September 2, 2022, The Sick, The Dying... And The Dead! further establishes MEGADETH as a band that has both defined and repeatedly redefined heavy metal since formation, and which follows up 2016's Grammy®-winning Dystopia, which debuted at #3 on the Billboard Top 200 (MEGADETH's highest chart position since its 1992 classic Countdown to Extinction).

MEGADETH has crafted a record with a visceral energy, heaviness, and sometimes paranormal pace that few would expect from such a seasoned band with so little to prove. The Sick, The Dying... And The Dead! melds the ultra-frenetic riffing, fiercely intricate guitar solos, and adventurous spirit of the quartet's groundbreaking early output with the musicality and melodicism of its '90s songwriting, all laced with signature virtuosity and precision – plus, of course, Mustaine's singular vocal snarl and wry, take-no-shit lyrical vitriol.

Both defying Mustaine's recent battle with throat cancer and celebrating his defeat of the disease, The Sick, The Dying... And The Dead! counterintuitively thrived on delays and cancelled tours resulting from both his illness and the worldwide pandemic.

"The fact that we had so much time to work on it benefitted the songs in the end, because they kept evolving," notes drummer Dirk Verbeuren. "Parts kept being refined; the 'ear candy' and the little details just kept getting better." 

After his departure from Metallica, having co-written many songs that would appear on their first two albums, the ultra-hungry 21-year-old Mustaine conceived a new band, MEGADETH, which would harness the cinematic songcraft of the new wave of British heavy metal to radically faster tempos, heightened technical agility, complex arrangements, and punk's primeval aggression.

"The utmost heaviest, ultra-furious band that I could come up with at that time," he recalls. "When we came out, there weren't a lot of bands that were doing what we were doing. There still aren't a lot of bands that are doing what we're doing." 

Mustaine's rare gift for guitar (ranked #1 in 2009 book The 100 Greatest Metal Guitarists), ahead-of-his-time sonic ambitions, and superhuman drive put MEGADETH among the legendary pioneers of thrash metal, known as the "Big Four."  Establishing themselves immediately with the release of their legendary debut Killing Is my Business… And Business Is Good, a series of platinum-selling album soon followed, earning them household-name status. To date, MEGADETH has sold over 50 million albums globally, including the double-platinum Countdown to Extinction, and received twelve Grammy® nominations. The band's uncompromisingly fierce yet fastidious live shows have become benchmarks for heavy metal performance worldwide.

Yet even amid this lofty legacy and MEGADETH's prodigious catalog, The Sick, The Dying ... and The Dead! stands apart on multiple levels. Mustaine's cancer was detected shortly after pre- production began, but he didn't let that derail the recording. "He's a fighter," recalls guitarist Louriero. "Because besides his chemo day [each week], he was always there!" It's also the first MEGADETH album to feature Kiko Louriero, who debuted on Dystopia, drummer Verbeuren and bassist Steve DiGiorgio (Testament), who temporarily stepped in to record the album–with the kickoff of MEGADETH's recent tour, alumni James LoMenzo rejoined the MEGADETH family and is now the permanent bass player.

Mustaine once again opted to co-produce the album with Chris Rakestraw (Danzig, Parkway Drive) in Nashville, reuniting the winning team behind Dystopia, which has scanned over 440K units and scooped the 2017 Grammy® for Best Metal Performance for its title track. "Chris and I have an understanding of what a MEGADETH record is supposed to sound like," he explains. "And his work ethic is a lot like mine: we worked hard; he worked harder."

Featuring some of Mustaine's strongest-ever songwriting, including collabs with bandmates, The Sick, The Dying... And The Dead! brings together everything that's exhilarating and distinctive about MEGADETH. From the blistering throwback fury of "Night Stalkers" (featuring the iconic Ice-T) and first single "We'll Be Back," to the more mid- tempo and melodic "Soldier On!" and the very personal title track, with its enthralling twists and turns.

As always with MEGADETH, every riff is meticulously fashioned to constantly crescendo, with new harmonic elements endlessly manifesting and every detail structured for maximum musical and emotional effect. Yet, through all of the album's moods and movements, MEGADETH never loses the crucial groove that binds the band members to one another and the foursome to its audience.

The Sick, The Dying... And The Dead! is a relentlessly caffeinated, riff-fueled romp of a record in its technical prowess, ambitious arrangements, staggering guitar solos, and nihilistic yet eloquent lyricism. Acoustic intros and interludes, a sense of progressive adventure, and Mustaine's trademark socio-political commentary round-out the record.

"This record could easily sit between Countdown and [1990's] Rust in Peace," says Mustaine. "The musicality that we started to add to MEGADETH songs around Countdown to Extinction is pretty prevalent with this record, while it still has a lot of the aggression that Rust in Peace had."

Since those landmark albums, MEGADETH has experimented with myriad sounds, songwriting styles, and riff arrangements, forever pushing the envelope of what we know as heavy metal. But with its newer members providing almost a fan's perspective of what's made the band so enduring, The Sick, The Dying... And The Dead! encapsulates the restless musical hydra that is MEGADETH on one record like never before.
The album captures all the tribal, bonding magic of being alongside thousands of fellow fans at MEGADETH concert, even when listened to at home alone or on earbuds. It's a motivating soundtrack to our greatest achievements and the solace through our all-time lows – or simply that invigorating album you stick on during your dour commute to escape to another place altogether.

"People don't make records the way they used to; they don't make a whole piece of art," Mustaine explains. "But I think the metal community wants to honor itself and have something that's unique to ourselves – that sets us apart and rewards the people in this community for their hard work and their perseverance and their loyalty to one another."

Released on the heels of MEGADETH's rapturously received Metal Tour of the Year alongside Lamb of God, plus numerous high-profile European festival appearances, and an upcoming North American tour with Five Finger Death Punch, The Sick, The Dying... And The Dead! cements the latest electrifying chapter in a career that has constantly challenged and surprised.

"I don't think we're nearing the end, not even remotely," Mustaine concludes. "I feel more energized now that I have in decades."

Appropriately, the album closes with "We'll Be Back" ...